The 2010 Night Rustic Reunion – Cruise to Alaska and Canada
by
Don 'Over' Mercer, Rustic 41
<![if !supportEmptyParas]> <![endif]>
<![if !vml]>

<![endif]>
<![if !vml]>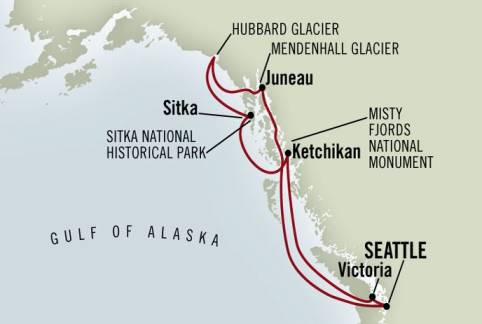 <![endif]>
          Seven Night Rustics and their wives joined together in Tacoma, Washington, on Thursday, July 22, for a fantastic Bon Voyage Party and cookout thrown by Drake (Goose) and Suzie Greene.  Among those celebrating were five of the eight couples who boarded the Holland America Line's ship ms Zaandam in Seattle the following day.  Those included: Mike and Lynn Davenport; Dave and Linda Hull; Dave (Zeke) and Sue Dekoker; Jack and Judy Strickland; and Don and Noreen Mercer, along with our oldest daughter, Noelle.
            Jeff and Michele Boston drove across the state from Richland with their two dogs and joined us all at the party.  With capable piloting by Zeke, and with Dave Hull in charge of navigating, those of us traveling from hotels in Seattle made it to and from the Greene's safely in a 12-passenger van that Zeke had rented.  Kudos to Zeke's stepping in and renting the van, the cost of which was shared by all.
            The spread of food, coupled with excellent company, was 5-star by my standards and included smoked salmon that Goose had caught and prepared himself.  Accompanied by several Washington state wines, the steaks were cooked to perfection.  On top of it all, the Greene's house resembles an arboretum.  Of course, for those of us who have difficulty fitting our hands to yard implements, the beauty was the proverbial double-edged sword, as all our wives marveled at Suzie's gardens.
            We departed the party at just past 10 PM and headed back to Seattle.  More than a few were nodding en route, testimony to the great time had by all.
            The next morning, folks headed out on their own prior to boarding the ship between 11 AM and 2 PM for a 4 PM departure.  I ran into Mike and Lynn Davenport while browsing in the Pike Place Market.  More than a few of us got to see the vendors throw the fish that were being bought that morning, a spectacle for which the Market is known.  Some made it to the original Starbucks, while others went out for breakfast.
            Then it was time to head for the ship.  Zeke assisted a number of couples by using the van to haul luggage and take passengers to the cruise terminal.
            Boarding the ship was a seamless exercise with cabins ready for occupancy by 1 PM.  While some congregated in the open air on Decks 8 and 9, we cast off just a few minutes past 4 PM. 
            A number of us, including Jim and June Hetherington and Merle and Margaret Shields, joined others for the first round of drinks. Jack and Judy Strickland, Dave and Linda Hull, and Dave and Sue Dekoker were also there and raised glasses with the rest of us.  In addition to Jim and June, and Merle and Margaret, John and Vicky Litton flew in on Friday to board ship.
            Compliments of Holland America and our group rep, Lance English, a bottle of Champagne awaited every couple in their cabin.  Once headed out of Seattle, folks began to explore the ship.  Mike Davenport happened upon a thermal suite with a hot tub and heated chairs.  After some became members for the duration of the cruise, including my two daughters, Noelle and Cheerie, the thermal suite added to the pleasure of a few in our group.
            It's difficult to say that anything is routine about a cruise to Alaska up through the Inside Passage.  Dinners had their scheduled times with six couples electing the later seating and two the earlier seating.  However, folks began to easily settle into the ship's schedule and all its amenities.
            By Saturday morning, we were out in the Pacific for a day at sea en route to Juneau; and the winds and waves began to take a toll on quite a number aboard.  We had a few in our group who decided to rest – mostly – while attempting to overcome some motion sickness. 
Holland America held a reception for the Night Rustics in the Piano Bar on Deck 5 between 5-6 PM.  A few missed the reception and dinner that night, as the ship continued to roll a bit.  However, all in attendance enjoyed the wine, beer, and other drinks, together with hot hors d'oeuvres. 
            By the next morning, we had entered the Gastineau Channel on our way to dock in Juneau.  The seas had calmed and all of us seemed ready to tackle the land.  Some in our group saw whales that rose to greet us with spray from their blowholes.  At least one whale gave a performance for those working out in the fitness center on Deck 9 with a mighty breach and return to the depths.
            The array of excursions at each of our planned stops was substantial.  In addition to a number of wildlife encounters with bears, eagles, seals, sea lions, otters, and more, there were opportunities to take helicopter rides to the glaciers, fly in floatplanes, fish, and take a number of sightseeing tours of the city and towns, along with adjacent surroundings.
            Later that afternoon, my crew took the Mt. Roberts tramway to get a great view above the city and ran into Zeke and Sue.  Fortunately, by the afternoon, most of the skies had cleared.  From what I gathered, the Night Rustics took advantage of a good cross-section of the tours offered.  We also helped bolster the economies of the towns and cities we visited.
Then it was back to the ship for an 8:30 PM castoff.  Some in our group got together from time to time or ran into each other at one of the several bars, restaurants, pools, fitness center, shops on board, and the casino.
The next day continued with our arriving at the Hubbard Glacier around noon after having taken aboard a National Park Service Ranger, together with a Native American from the region.  A number of most informative details surrounding the glacier, as well as native tales, were delivered over the public address system on board.  Pea soup was served on the open decks and in the Crow's Nest, as all aboard took in the spectacular scenery.
As we approached the glacier, muffled sounds could be heard intermittently, as calving took place, with large pieces of dark blue glacial ice breaking off.  Some of the rather large chunks of ice fell from close to three hundred feet up on the glacier's lip, and they created sizable splashes once hitting the water. 
I had been prepared to view the exceptional scenery, but I figured that watching ice move might fall into a similar category as watching paint dry or grass grow.  I could not have been more wrong, as the calving was just another example of God's majesty.  The setting could not have been more inspiring, as we viewed large chunks of ice plunge seaward, coupled with distant roars in the background.
In the late afternoon, the ms Zaandam put the Hubbard Glacier at its stern, as we turned west to depart first Disenchantment Bay and then Yakutat Bay.  Our route then took us into the Gulf of Alaska with our next destination as Sitka the following day.
I was out on deck by 6 AM the next morning to see a 200 to 300 foot overcast cloud layer extend all the way to the end of Sitka Sound, as we approached the town.  The mountaintops were completely shrouded in cloud cover.  However, as we approached the spot at which we were to anchor, the sun began to poke through small openings, and patches of blue sky could be seen.
Dave and Linda Hull were off to kayak and hopefully see some of Alaska's wildlife.  They were successful just as they had been on their whale-watching excursion that had launched from Juneau.
Following a delicious breakfast on board, four in my party headed into town after we got tickets to take the ship's tender to the docks.  While we walked around Sitka, we saw a totem pole in Totem Square and the quaint Russian Orthodox structure, St. Michael's Cathedral.
After a delicious lunch in town, we boarded a small fishing boat and headed out eight miles into the Sound to try to snag some salmon.  By noon, the clouds had moved off for the most part; and clear skies were the order of the day.  All that was left were some small white puffies and a bloom of cloud that hugged the peak of Mt. Edgecombe, Sitka's resident volcano.  Our captain said that the good folks in Sitka had not seen the sun in three weeks.
Fortunately, our captain got us on some salmon.  Each of us caught one with the total being two pinks and two silvers.  Earlier this week, we began to eat some of the catch that I had shipped.  The fish are outstanding.
After taking the tender back to our ship, most all in our Night Rustic group headed to dinner.  Another evening passed with a delicious meal followed by a number of various activities: the casino; walking on the open decks; visiting one of several bars for a nightcap; taking in the nightly show; or attending a movie presentation.
On Wednesday, we awoke in Ketchikan to more sun, thankfully.  We were docked right across from the downtown shopping area.  Once again, folks in our group either headed for a walk through the town or disembarked to take an excursion.  Dave and Sue Dekoker had a floatplane ride to the "Misty Fjords," which turned out to be magnificent from what they said.    
Creek Street, an older part of town that served as the "red light district" many years past, provided numerous shops and an excellent viewing platform to watch as three foot plus salmon made their way up the creek to spawn.  Quite a number in our reunion group took advantage of the great weather, as they walked around Ketchikan.
That night, we all gathered in The Atrium to have Mo, the manager of the ship's photo shop, take a few pictures of the eight men as a group, and then all us with our wives.  The photos turned out exceptionally well.
Then it was off to dinner for six couples and another delicious meal, as two couples had already eaten.  As we entered the Pacific Ocean, conditions seemed to calm a bit, although we seemed to be in a never-ending fog bank.  Thank goodness for radar.
On Thursday, our last full day aboard ship, we sailed toward Victoria, British Columbia, Canada.  That morning, we were all scheduled to join together in the Rotterdam Dining Room on Deck 5 for breakfast. 
The only problem which arose turned out to be that a couple of us forgot to turn our watches back an hour.  What fun it is showing up for a 9 AM breakfast at 9:35.  However, the wait staff made allowances for the tardy one.  John Litton's discussion was most interesting, as he detailed each of the three engine failures he experienced in combat, one of which took him to a landing at Phnom Penh.
Once we docked in Victoria around 7:30 PM, most with whom I spoke, as with all in my group, took either a cab or bus into the city.  The Empress Hotel, a landmark of Victoria, was resplendent in its old charm, having been built between 1904 and 1908. 
Numerous shops remained open until 9 PM, which allowed for some last minute shopping.  All had to be back on board by 11:30 PM for our final leg that night to Seattle.
With the need to have all our bags, which we were not hand carrying off the ship the next morning, outside our cabins by 1 AM, most of us returned to our cabins for that last minute closing of suitcases and garment bags.  For some of us, that time back aboard ship also included a final trip to one of the ship's numerous bars.  
Dave and Linda Hull took the unusual approach of shipping some bags and purchases home.  They arrived outside Seattle in the experimental aircraft that Dave had built over a period of more than three years.  But they only exemplified the problem experienced by most all of us … we were going back with more than that which we arrived.   
The next morning, we docked in Seattle before our scheduled time of 7 AM.  As with a considerable amount of the week's trip on the ocean, once docked, we could hardly see the ship just on the other side of the cruise terminal through the fog.  Most of us joined together for one last meal in the Lido Restaurant on Deck 8.  It had been a wonderful gathering of old friends. 
All in all, the 2010 Night Rustic Reunion was a grand time.  Drake and Suzie Greene set the enthusiastic tone for our entire week together with their Bon Voyage Party.  Holland America's ms Zaandam provided a wonderful venue.
Alaska is a vast and wondrous land and state.  From my perspective, the cruise and our time spent together could not have been more of a success or any more enjoyable and meaningful.  My thanks to all for attending and to those of you whose valuable input at various stages of the planning culminated in making this a trip that was second to none.   
General Cruise Details 
| | |
| --- | --- |
| Bon Voyage Party was: | 22 July 2010 |
| Sailed Date: | 23 July 2010 |
| Returned Date: | 30 July 2010 |
Itinerary
| | | | |
| --- | --- | --- | --- |
| Day | Port | Arrived | Departed |
| 0 | Seattle, Washington | | 04:00 PM |
| 1 | At Sea | | |
| 2 | Juneau, Alaska | Noon | 09:00 PM |
| 3 | Hubbard Glacier Cruising CO | 01:00 PM | 06:00 PM |
| 4 | Sitka, Alaska TR | 08:00 AM | 05:00 PM |
| 5 | Ketchikan, Alaska | 07:00 AM | 01:00 PM |
| 6 | Victoria Canada | 07:30 PM | 11:59 PM |
| 7 | Seattle, Washington | 07:00 AM | |
<![if !supportEmptyParas]> <![endif]>