Land narrative Cruise narrative
Pre-Cruised in Beantown:
Tom & Terri Canter
Mike & Lynn Davenport
Jack & Judy Strickland
Bob Harris & Rita Soteropoulos
Dave & Sue DeKoker
<![if !supportEmptyParas]> <![endif]>
Cruised to Nova Scotia:
Don & Noreen Mercer
Mike & B Thrower
Tom & Terri Canter
Mike & Lynn Davenport
Tom & Linda Jamrosy
Merle & Margaret Shields
Jack & Judy Strickland
---
Landside Narrative
Downtown Historic District, Boston MA
<![if !supportEmptyParas]> <![endif]>
Prior to sailing, some members came out 3 days early to enjoy and learn about Boston's historical significance during the creation of this Great Republic. In fact, Jack and Judy Strickland came up 4 days early. Sue and I, never having been there, found out there is a very significant number of things to see and learn about in Beantown and with some time spent on web research, came up with a few ideas that would hopefully appeal to all the Early Birds. Driving and parking is a near impossibility to find in Boston (ask Redeye about the tunnels), or the cost is seriously prohibitive, so the order of the week was "Shank's Horses". Now, for those who aren't familiar with that old country term, it means we walked everywhere. I might also add that walking was also a bit of a challenge as the sidewalks were rarely smooth concrete, but more likely than not, cobblestones, bricks, or old uneven concrete slabs. Regardless, we all made it through with no injuries!!
We all started gathering on Thursday the 13th, arriving at our respective hotels, doing a little travel recoup, and learning the lay of the land downtown Boston a bit. All were up for some Italian in a town where that food is second only to fresh seafood. We had dinner at a fantastic little 'mob' restaurant in the North End called Strega Ristorante. The food was absolutely awesome, but the entertainment was a bit graphic for some tastes as there were 5 screens in one end of the room showing muted continuous mafia film classics. The screens were easy to ignore, especially with the great visiting conversations, impeccable service and authentic Italian cuisine placed before us. We all stumbled back to our hotels, most of us stuffed to the gills! However, some managed to lead us along a more circuitous route back, just happening to pass by a fantastic Pastry Shop for a bite of desert.
We all decided we would rather sit down and be served for breakfast, so breakfast was done at the Marriott Long Wharf. After that, we all walked over to form up at Sam Adams' statue just west of Faneuil Hall to begin our Boston by Foot Walking Tour of the Freedom Trail. Our guide's name was Dennis and he was excellent. There were 7 of us and a few other strangers were added in, too. Next, it was getting a little hungry out and lunch was set for the original Cheers of Boston Bar & Restaurant (Where Everyone Knows Your Name—yet they didn't, I tested them). We didn't do our homework on this and found ourselves hoofing it a LONG way, up Beacon Hill to finally reach it, but we made it. Redeye passed on lunch and instead waited for Rita's flight to arrive from DC.
The afternoon was 'open' time and folks went this way and that, exploring, shopping, etc. Some took in Boston Common which was directly across the street from Cheers. Some rode the Old Town Trolley forever (2 hrs!) because they didn't check the route and direction!! (That would be Zeke, hehe). However, we all regathered at wharfside just in the nick of time to board Fort Independence for our 45 minute Harbor Tour. It was a welcomed relief to sit down with a beer as evidenced by the photos on display. Friday evening had reservations for dinner at the oldest continuous operating restaurant in America, the Union Oyster House on Union Street. Wow! More fantastic food and drinks for everyone was the order of the evening. Our 2 lady servers were hilarious in the way they perfectly executed the tough job of getting this group stuffed and happy. Once again we were shanghaied and this time to a Gelato joint for some grab and run desert. Did I happen to mention Mikey was the one leading these retreats to the hotels each evening?
We needed a better breakfast place so we asked around and found out about Anthony's, a tiny little place with a few tables, good (read: regular eggs) breakfast foods and cheap prices! To top it all off, it was very close to the hotels, so we did that on Saturday morning. The weather was rainy and heavily overcast, but we all decided to get back on the Old Town Trolley to go see the USS Constitution which is tied up in the harbor there. By the time we arrived at the Museum and Ship, the weather had cleared and it remained a beautiful day for pix and more sightseeing. The ship is an awesome experience and it is hard to believe she carried a crew of nearly 400 sailors and only 2 cooks! Even more notable is the fact that one of those was for the Captain ONLY (it's nice to be the king).
Another foot tour was planned for the North End, but too much time was spent at the Constitution to make that schedule, so instead the group headed back onto the Trolley to go pay a visit to Harvard. We found it interesting, but not particularly different from any other older style college campus we've seen. After some lunch, it was then time to head back to the hotels to prepare (read: rest up a little for us old farts) for the Official Cruise Bon Voyage Party and Dinner at Legal Sea Foods. Even though I had been working on it for weeks in advance, it was very difficult to get solid reservations for 2 tables of 8 on a Saturday night at 2000hrs! Making a long story short, with the fantastic help of the young lady maitre d' at the desk, she not only allowed us to leave the premises to have our Happy Hour at the Marriott, she seated us on time and managed to put us all at one table!! Unbelievable, since the place was so jammed we had to move the Cocktail Hour we'd planned to have there. I should also mention that Boston Night Life is not only alive and well, but flourishing well beyond comprehension!!! The dinner was superb, the service perfect and all done by one male server who even split the checks 8 ways!
On Sunday the rest sailed, but Bob and Rita drove south to NYC to visit the new 911 Memorial while Suzi and I set out to photograph downtown Boston historical buildings. By evening, we hopped on Jet Blue and arrived home at midnight. What a great week we all had visiting and exploring, laughing, reminiscing and loving. If you couldn't make it, you missed out this time, but we hope you will be able to make the next reunion in 2014, location to be determined.
<![if !supportEmptyParas]> <![endif]>
-- Dave DeKoker aka Zeke
---
Cruise Narrative
Aboard Royal Caribbean's Jewel of the Seas
<![if !supportEmptyParas]> <![endif]>
For the 2012 Night Rustic Reunion, several couples arrived in Boston a few days before our ship departed for those going on the cruise. Dave and Sue Dekoker, Jack and Judy Strickland, Mike and Lynn Davenport, Tom and Terri Canter, and Bob Harris and Rita participated in a few walks and tours before the remainder of us arrived on Saturday, September 15. Zeke, always reliable in our reunion planning, oversaw an excellent pre-cruise itinerary.
Merle and Margaret Shields, Mike and B Thrower, Tom and Linda Jamrosy, and Don and Noreen Mercer came in the day before our ship, Royal Caribbean's Jewel of the Seas, departed. We all got together on Saturday evening, first at the Marriott Long Wharf on the waterfront for drinks; and then it was a short walk to Legal Sea Foods for an outstanding meal.
Next, it was back to the Marriott for a nightcap. We said our goodbyes to Dave and Sue, together with Bob and Rita, all of whom were heading for their homes the next day.
On Sunday morning, most headed out for breakfast with some getting their meals and coffee at nearby Anthony's. A water taxi had been arranged to meet all at the Marriott's dock at 1 PM for the forty-five minute trip down the Boston harbor to a dock a couple hundred yards from the cruise terminal. The day was bright and beautiful.
After we all made it aboard, everyone got settled in their cabins; and our ship departed Boston shortly after 5 PM. We all met in the Schooner Bar at 7 PM for the first of our nightly Happy Hours. Following our first Happy Hour, all subsequent ones were held each evening in the Champagne Bar. Scouting proved that this bar also provided complimentary hors d'oeuvres, as well as free caviar with several garnishes. Plus, Lorenzo, our bartender there, was most attentive.
Our first port of call was in Portland, Maine, on Monday morning. All departed the ship for walks around the town. The weather was bright and sunny with temperature in the mid-70s. Back aboard ship, we fell into our routine of Happy Hour, followed by an 8 PM dinner seating. After dinner each evening, folks headed to a number of activities – the casino, a show, dancing, checking out the onboard shops and sales, and listening to various small bands and singers in some of the lounges. Of course, some others just turned in.
If it's Tuesday, it's Bar Harbor, Maine. We tendered into the harbor on a beautiful day with mild temperatures once again. Some couples chose to walk around the town while a few others took one of the numerous excursions available in the harbor or into nearby Acacia National Park.
Most found a lobster with their name on it. Sitting on the pier overlooking the harbor with our ship at anchor, and having a delicious lobster served, was outstanding. And a piece of Maine's blueberry pie only added to the wonderful experience.
The next morning found us in Saint John, New Brunswick, Canada. A low-pressure system had rolled in, so the day was on the dreary side and a bit cooler. A nice greeting for all disembarking was provided, with a rose for all the ladies coming ashore, and a small pin for all the men. A number of couples saw the famous Reversing Falls, with tidal changes of some twenty-seven feet at times, resulting from the shape of the Bay of Fundy on which Saint John sits.
While some folks departed the ship to explore the town and some surrounding areas on one of the numerous tours available, a few remained aboard. By the afternoon, a steady drizzle was falling with some wind gusts kicking up. However, our intrepid travelers made the best of our voyage with some of our ladies tackling the spa on board, with some folks working out in the fitness center, along with yet others obtaining snacks in the Windjammer restaurant.
Wednesday was a day of cruising from Saint John to Halifax, Nova Scotia, Canada. By the evening we had entered a fog bank. We arrived at Halifax on Thursday morning to see the fog roll in and out but a little, while lifting no more than a few hundred feet during our entire stay.
For those who departed the ship, the cruise terminal was filled with small shops. Raincoats and windbreakers were the order of the day.
Some couples ventured to Peggy's Cove, a nearby working fishing village with a photogenic lighthouse, along with picturesque scenes on the wharves complete with lobster pots, buoys, nets, and a few lobster boats in the cove for added background. The fog, however, remained throughout the day.
Thursday evening was the second of two formal nights, so all gathered in the Champagne Bar for group photos, which turned out nicely. Our ladies looked sharp, as always. Two birthdays were celebrated aboard ship, those of B Thrower and Noreen Mercer. Linda Jamrosy had just celebrated hers a few days prior to our voyage.
The well established drink, eat, and repeat program was now being faithfully followed by all with great results. With Lorenzo in the Champagne Bar, along with Amal (India) and Melissa (South Africa) and their capable assistant waiters in the main dining room, everyone had a grand time. If anyone left the ship weighing less than when we departed Boston, they have my heartfelt congratulations.
After departing Halifax on Friday evening, yet still in the fog and with some light rain thrown in beginning in the afternoon, we began our return to Boston with one more full day at sea on Saturday. That provided a nice "down day" to pull that last lever in the casino, take a "hit" or "stay" at the Blackjack table, get in that last spa treatment, compare one bar and restaurant to another, or simply lounge around.
Over another delicious dinner, all said our goodbyes and offered comments as to possible venues for our Night Rustic Reunion in 2014. Most favored a reunion on land at a resort or renting a couple condos versus another cruise, in hopes of having even more attend.
Sunday morning, September 23, found us once again back in Boston, docked, and ready to depart our ship and head for home. Our reunion provided a grand time enjoyed by all. Everyone made it to dinner each evening, while we moved from one table to another some evenings so that all could have ample time to share conversations with all others in our group onboard.
I look forward to our next gathering in 2014, which Zeke has graciously volunteered to plan. That should be yet another great get together!
-- Don Mercer aka Over
<![if !supportEmptyParas]> <![endif]>
<![if !vml]>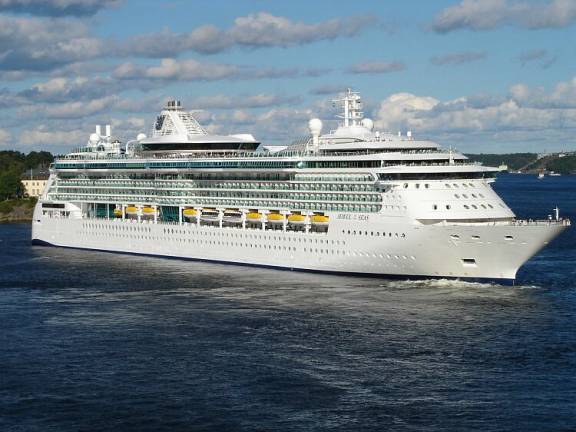 <![endif]>
Jewel of the Seas
<![if !supportEmptyParas]> <![endif]>
<![if !vml]>

<![endif]> <![if !vml]>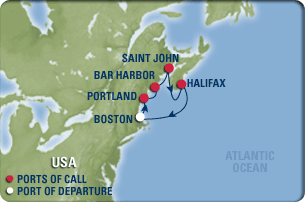 <![endif]>
<![if !vml]>

<![endif]>
| | | | | |
| --- | --- | --- | --- | --- |
| <![if !vml]><![endif]> | <![if !vml]><![endif]> | <![if !vml]><![endif]> | <![if !vml]><![endif]> | <![if !vml]><![endif]> |
| Day | Port *** | Arrive | Depart | Activity |
| 16-Sep | | <![if !supportEmptyParas]> <![endif]> | 5:00 PM | <![if !supportEmptyParas]> <![endif]> |
| 17-Sep | | 7:00 AM | 6:00 PM | Docked |
| 18-Sep | | 7:00 AM | 5:00 PM | Tendered |
| 19-Sep | | 7:00 AM | 5:30 PM | Docked |
| 20-Sep | Cruising | <![if !supportEmptyParas]> <![endif]> | <![if !supportEmptyParas]> <![endif]> | <![if !supportEmptyParas]> <![endif]> |
| 21-Sep | | 9:00 AM | 6:30 PM | Docked |
| 22-Sep | Cruising | <![if !supportEmptyParas]> <![endif]> | <![if !supportEmptyParas]> <![endif]> | <![if !supportEmptyParas]> <![endif]> |
| 23-Sep | | 6:00 AM | <![if !supportEmptyParas]> <![endif]> | <![if !supportEmptyParas]> <![endif]> |